The Importance of Networking at Law School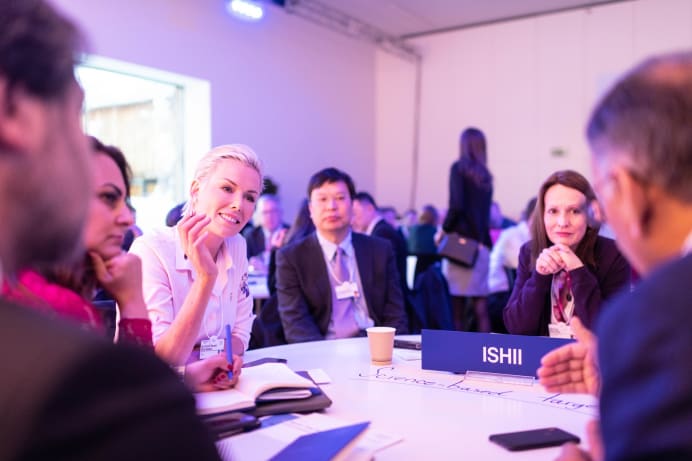 No successful person rises to the top on their own. Whether it's sports, politics, business, or starting a legal career, we all need help getting to where we want to go. The best business leaders and legal minds understand this. They know high social capital, or your ability to build a network of authentic personal and professional relationships, is your most important asset.
So here's a look at how you can start fostering professional relationships while at law school. And we'll tell you about one law school that helps its students graduate with the kind of networking skills that land interviews and launch careers.
What is networking?
Networking is about building and maintaining mutually beneficial working relationships with other professionals. It helps professionals expand their circles of acquaintances, find out about new job opportunities, and stay up-to-date with industry news and trends.
People join networking groups based on a common point of professional interest. For example, the Women, Influence & Power in Law Network is a group of young female lawyers addressing the gender imbalance within the boardrooms at the USA's biggest legal firms.
Why networking is important
When it comes to succeeding in any professional industry, your reputation is just as important as your skills or talents. In other words, you have to make a conscious effort to present yourself in the right way to the right people. "Networking is personal marketing," says Christine Comaford, the American serial entrepreneur who founded Artemis Ventures and First Professional Bank. "It's marketing yourself, your uniqueness, what you stand for. If people know you and trust you, they're far more likely to work with you."
Networking is particularly important in law as it helps companies and individuals find legal representation - and it helps law students and graduates find that dream placement/internship/job. It can also help you gain invaluable insights for the sector or land the legal mentor that will help you get to the top of the legal world! (This will all ring true to viewers of, for example, the hit TV show Suits in which Harvey Spencer, Louis Litt, Mike Ross, and others wine and dine high-profile clientele to secure deals.)
Networking karma
The best networkers focus on what they can offer to other people. "The currency of real networking is not greed but generosity," says Keith Ferrazzi, the founder and CEO of Ferrazzi Greenlight, a Los Angeles-based research and consulting firm. "It's like the law of karma; the more value you put out there, the more opportunity will come your way." So think about what you can bring to the table. What can you do that no one else can? What particular problem can you solve? How can you make someone else's life easier?
How to network
Networking comes naturally to some people, especially extroverts who thrive in new social situations. Others have to work on it. Think of networking as a skill you can develop and improve over time.
Here are a few tips to help you get started:
Set goals
What do you want from this networking event? Are you looking to make some new contacts? Secure an internship? Or find a mentor?
Read the room
Carole Railton is a body language expert who helps clients navigate the subtleties of the corporate world. She advises people attending networking events to look for 'open' groups, i.e. people who stand facing outward, rather than in a circle or opposite each other. This shows they are open to new people joining their group. And focus on small groups of two or three. These are much better at facilitating meaningful dialogue and fruitful conversations.
Do the after-work
Follow up on any commitments you made and keep in touch with new contacts. Don't wait for people to contact you. Instigating conversations shows you're confident enough to take the initiative.
Be nice (to everyone)
The classmates sitting next to you will be your industry peers. Some of them will work in high-powered positions at the government or non-profits. Others will become influential in private practices or billion-dollar corporations. Treat everyone with the respect they deserve. You never know how important they could become in the future.
Focus on the other person
People enjoy talking about themselves. And they love it when others ask for their advice. If you can make people feel good when they're around, they'll subconsciously start to like you. Small psychological 'cheat codes' like this are much more effective than boasting or trying to hog the conversation.
Networking at law school
Networking starts at college. It's the first place where you'll be around the people who can help you achieve your long-term career goals.
Seminars, coffee breaks, talks, and career fairs provide the perfect opportunity to start building and expanding your network of contacts. Say yes to as many events as possible, including social meet-ups with your classmates or tutors; many great deals and job offers start with a casual chat over a cup of coffee.
Networking at the University of New Hampshire Franklin Pierce School of Law
The University of New Hampshire Franklin Pierce School of Law is the ideal place to launch your legal career.
Ranked as a top 10 US law school for Intellectual Property for the last 30 consecutive years, it offers several world-class programmes designed to help you develop the skills and experience you need to land that first professional legal role or take your career to the next level.
Courses include LLM and Master's degrees in Intellectual Property, Commerce and Technology, and International Criminal Law and Justice. All modules are designed and taught by leading academics with decades of legal and corporate experience at the highest levels.
All courses combine classroom learning with practical case studies and opportunities for experiential learning. Students can tailor their programme, creating a specific learning pathway to match their desired career outcomes.
Graduates from the University of New Hampshire Franklin Pierce School of Law work for top legal firms in more than 80 countries worldwide. Others have secured rewarding roles as legal counsel or advisers for some of the biggest companies in the world, including General Electric, Hewlett-Packard, Microsoft, Nintendo, and PepsiCo.
The University of New Hampshire Franklin Pierce School of Law understands the importance of networking. It runs regular programmes and events to help students develop their networking skills, including free webinars on how to market yourself and land a dream job.
Created by networking expert Neil Sirota, the Assistant Dean of Career Services, a recent seminar explained how students can leverage their academic qualifications via successful networking. Tips include building a personal brand, finding networks, and networking tips and advice. You can watch the entire seminar on the Franklin Pierce School of Law blog page.
According to Sommer Blackman, who graduated with an LLM in Intellectual Property in 2020, "During the school year, I networked with several lawyers. At the end of every conversation, I made it a point to ask if that person had one or two people in mind that I could speak with. It helped me keep meeting new people."
After graduating, Sommer used her networking skills to set up interviews. Sommer currently practices trademark, copyright and entertainment law in New York City.
LLM in Commerce and Technology graduate Vinicius Silva Damasceno has a similar story. He secured a law clerk role within a few weeks of completing his course.
"Finding a job after graduation isn't easy, but it is possible," says Vinicius. "To help me fulfill my goal, I established a network with many legal professionals that provided helpful information, especially in applying for the right positions and in the proper way. I also had fantastic help from my professors. They provided excellent advice in approaching companies and networking."
Successful networking isn't about who you know; it's about who knows you. Enrol at the University of New Hampshire Franklin Pierce School of Law and start showcasing your talent and potential!
(Embedded video: https://www.youtube.com/watch?v=8iKjoGR9Eow )
Article written in association with the University of New Hampshire Franklin Pierce School of Law.

After graduating with a degree in English literature and creative writing, Ashley worked as a bartender, insurance broker, and teacher. He became a full-time freelance writer in 2016. He lives and writes in Manchester, England.
Les relaterte artikler
How Do You Prepare to Study Like a Law Student?

21. okt. 2022

It's hardly surprising that law schools are seeing an increase in applicants, especially over the last few years. With more time on their hands due to the COVID-19 shutdowns, as well as the political unrest in many parts of the world, more students are considering a change in career or further education into law. Recently, "The Law School Admission Council (LSAC) released statistics revealing a 35% increase in applicants and a 56% rise in total applications over last year." Therefore, if you got into law school, you're likely to be amongst the good company of people who want their spot there. Being prepared to study like a law student will help you find success during school, and after you graduate.

Les mer